Article successfully added.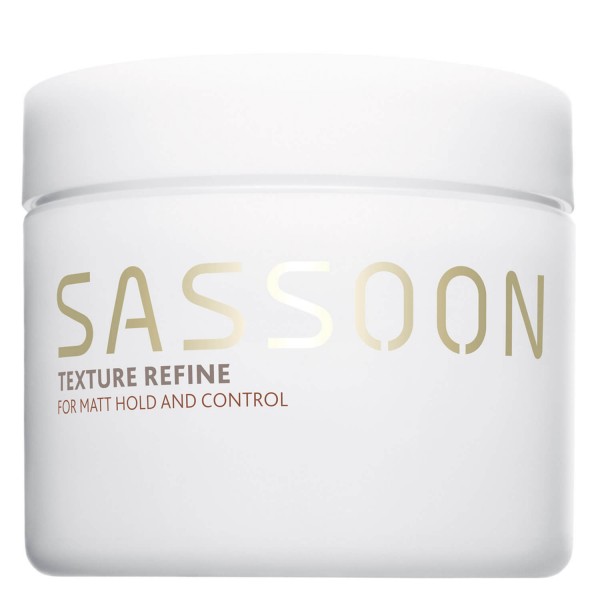 CHF21.60 *
CHF27.00 *
(20% Saved)
Prices incl. VAT plus shipping costs
Ready to ship today,
Delivery time appr. 1-3 workdays
Protects and polishes. A next generation serum for use with straightening irons to protect hair...
more
"Finish - Texture Refine"
Protects and polishes. A next generation serum for use with straightening irons to protect hair from heat.
Directions of use
Style as usual.
Result
Unique, matt Hydrate-Look, firm style hold.
Related links to "Finish - Texture Refine"
Read, write and discuss reviews...
more
Customer evaluation for "Finish - Texture Refine"
From:
jeannette gavran
On:
19 Apr 2018
weil es einfach eine super Textur hat
From:
Barbara Surber
On:
13 Mar 2018
Sassoon ist eine Haltung. Diese zeigt sich in jedem Produkt von Neuem.
From:
Ruth Bener
On:
10 Feb 2018
From:
Roland Meier
On:
2 Feb 2018
From:
Isabella O.
On:
14 Mar 2017
First-rate product
Super strong. Just brilliant.
From:
Isabella O.
On:
14 Mar 2017
Première classe
Tenue superbe. Simplement génial.
From:
Isabella O.
On:
9 Apr 2015
Erste Klasse
Super Halt. einfach genial
Folgende Infos zum Hersteller sind verfübar......
more
Sassoon
Sassoon: In Erinnerung an Vidal Sassoon!
"Wir glauben, dass perfekte Schönheit für jede Frau anders aussieht und dass es kein täglicher Kampf sein muss, sie zu erreichen." Das ist einer der Leitsätze der Marke Sassoon Professional, die von Wella 2006 ins Leben gerufen wurde und den Namen des Starfriseurs Vidal Sassoon trägt. Seine Geschichte und die des Unternehmens Wella sind eng miteinander verbunden. Von Sassoon Professional gibt es heute beispielsweise Haarpflegeprodukte, Finishing-Produkte sowie Produkte für den Farbschutz.
Ein Starfriseur, der (zunächst) keiner werden wollte
Der 1928 in London geborene Vidal Sassoon war ohne Zweifel ein Star in der Welt der Friseure. Dabei ist er anfangs eher zufällig als ein sogenannter Shampoo-Boy in die Welt der Haarschneidekunst eingetaucht. Allerdings dauerte es nicht allzu lange, bis die Branche seine Leidenschaft und seine Kreativität entfacht hat und spätestens in den 60er Jahren setzte Vidal Sassoon dann Massstäbe.
Sassoon etablierte geometrische Haarschnitte. Er belebte den Bob neu, kreierte V-Schnitt und Five-Point-Cut und wurde einer der bedeutendsten Friseure seiner Zeit. Vielleicht war es Sassoon, der dem Handwerk in seiner Zeit mehr als irgendwer sonst eine künstlerische Note verlieh und der aus einem schlichten Frisieren ein aufregendes Styling machte.
Sassoon initiierte aber auch einen Akt der Befreiung für Frauen, weil seine Frisuren trendig waren und zugleich viel weniger Aufwand für sie bedeuteten. Und seine Stylingkunst ergänzte perfekt die Arbeit von Modedesignerinnen wie Mary Quant. Diese Kunst wurde aber nie zu einem verblassenden Relikt der 60er. Sie wurde zeitlos. Sie begeistert bis heute.
Neben den Salons stehen die Produkte
Vidal Sassoon eröffnete im Laufe der Zeit zahlreiche Salons und die Sassoon-Academy, in der FriseurInnen die Grundlagen der Haarschneidekunst eines Vidal Sassoon lernen, in der sie sich weiterentwickeln und verbessern können. Zudem brachte Sassoon früh auch eigene Produkte auf den Markt: 1974 etwa die Haarpflegeserie "Wash and go".
Die Marke Sassoon Professional ist deutlich jünger. Das Unternehmen Wella, das viele Jahre mit Vidal Sassoon zusammengearbeitet hat, brachte sie 2006 heraus. Bei ihr geht es um eine geniale Natürlichkeit. Das Haar soll so natürlich wie möglich bleiben, als organische, lebendige Substanz verstanden werden. Das war wohl ganz im Sinne Sassoons, der 2012 mit 84 Jahren in Los Angeles starb. Die Friseurbranche habe eine inspirierende Persönlichkeit, eine Mode- und Friseur-Legende verloren, schrieb Ralf Billharz von WELLA Professional am Anfang seines Nachrufs.
Pflege, Schönheit, Sassoon
Wer in die Produktwelt von Sassoon eintaucht, stösst dort beispielsweise auf eine täglich anwendbare Feuchtigkeitspflege für alle Haartypen, auf ein Finish, das einer Frisur den "Frisch-aus-dem-Salon" Look bewahrt, auf ein Shampoo für feines und mittelstarkes Haar sowie auf Stylingschutz, der das Haar beim Föhnen vor zu viel Hitze schützt und ihm Glanz verleiht. Und er ahnt: Sassoon lebt. Er in den Sassoon Salons, in der Sassoon Akademie und in allen Sassoon Produkten: Das Genie überdauert die Zeit. Das ist eine schöne Botschaft.